Hi friends!
So for the end of June, I found myself in a super witchy mood (pun only kind of intended lol) and just devoured a bunch of witch books. All three of these books have been on my radar for a while and I'm so excited to finally read them!
This is the first time I've done a mash-up review on my blog and the second time I filmed one for BookTube, so let me know what you think of these!
Booktube:
---
Book 1: Undead Girl Gang by Lily Anderson
When trying to solve your friend's murder goes wrong…
Full synopsis can be found here.
Undead Girl Gang is one of the better murder mysteries I've read this year. My biggest complaint with some of the other murder mysteries is that the reveal of who the killer was and their motives never seems authentic to me, and some even came off as forced or unrealistic. That was not the case with this book; the reveal of the killer came with enough teasing and a solid motive.
The entire plot of this book was pretty evenly paced, which I actually really enjoyed. This allowed for a few moments tension in the climax and for the weight of the reveal to really sink in for the reader. This also allowed for a super easy and quick read.
The characters in this book felt super authentic. We follow a plus-sized latina main character with a seriously snarky attitude. Mila just felt incredibly down to earth. Getting to be inside her mind was super interesting since she cycles through various stages of grief and acknowledges when she experiences inappropriate thoughts or desires.
The side characters were also done incredibly well. I think my favorite part was looking at the relationship between Mila and the two girls she considered to be the mean girls. Watching them grow throughout the novel added to the authenticity of the characters. No one was entirely good and no one was entirely bad. They are kids that still need to mature. Also, this book doesn't negate the fact that these characters did bad things and were kind of shit people. It acknowledges that fact and actually leads to a discussion.
The last bit I want to talk about is the use of Wicca in this book. I don't practice the religion myself, but I did love that it was included and portrayed pretty well. I enjoyed that having Mila use the dark arts was a way to add some magical realism and paranormal qualities to the story without feeling unnecessary.
I definitely get why this book has been getting so much hype. This book perfectly toed the line between being a simple/classic story and being a fun and diverse masterpiece. While this wasn't a 5 star read for me, this is one I still really enjoyed. I think lovers of mysteries, the paranormal, or those looking for a little something different will adore this one!
Rating: ⭐️⭐️⭐️⭐️ – 4/5 stars
---
Book 2: The Wicked Deep by Shea Ernshaw
Hocus Pocus…but in book form.
Full synopsis can be found here.
This book was, ah, so much fun. After hearing everyone talk about how atmospheric it was, I knew I needed to listen to the audiobook.  That was definitely the right call.
This book's biggest strength is letting the reader experience the story through Penny's experiences, allowing the reader to be fully immersed. I also liked how the flashbacks didn't create a second narrative, rather just added to the narrative we were already reading. This helped keep things focused and kept the reader in the trance of the main narrative.
I also loved how this was such a traditional narrative. There was such a clear beginning, middle, and end of the story without any subplots or deviations. I also loved the twists that were added. While they weren't overly mind-blowing, they definitely added to the story. I enjoyed that the reader wasn't entirely sure where the plot was going at first and needed to let the story develop.
I enjoyed the romance and character dynamics in this story. Though everything seemed pretty straightforward and simple, but also incredibly addicting. The romance is definitely closer to instalove, but didn't feel like other portrayals. There was a bit of longing and lust before the romance officially developed, but the time that actually elapsed in the book was around a week (maybe less).
I think those who enjoy the experience of a novel will really enjoy this one. This is a bit of a slow burn story and you definitely need to give it time to develop, though the pay off is totally worth it. This book has been compared to Hocus Pocus and I can definitely see why. If you're craving the Sanderson sisters with a tad less virgin shaming, then the Wicked Deep will probably be a great pick for you!
Rating: ⭐️⭐️⭐️⭐️✨ – 4.5/5 stars
---
Book 3: A Discovery of Witches by Deborah Harkness
It was the monster mash, but it was not a graveyard smash…
Full synopsis can be found here.
When starting this one, I really wasn't sure what to expect. Overall, I thought it was an incredibly captivating novel that felt like a mash-up of some other reads with a sprinkle of uniqueness sprinkled in.
One of my favorite parts about the book was the romance! I thought Diana and Matthew were fleshed out pretty well and the romance itself wasn't really insta-lovey. This is definitely one of those "now kiss" romances, but I don't know, I liked it. There was one passage I remember tabbing and sending to Erica (we buddy read this!) where Matthew was like
I have no intention of taking Diana to bed
and I was just like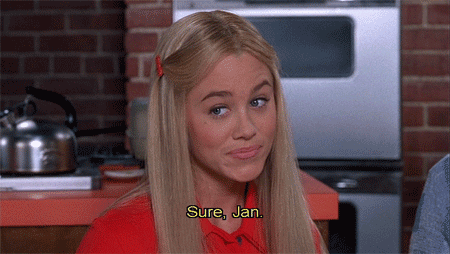 I also really found myself enjoying the lore and learning how the different creatures interacted. The notion that vampires and witches were mortal enemies and must never interact felt a bit overdone (probably because Twilight was one of the most impactful books in my youth and that was kind of a bit plot point of books 2-4 – well with humans instead of witches). That being said, the dynamic between the creatures stemming from this was pretty enjoyable to read about.
I also loved how this book ended. At first, I really wasn't sure where the story was going or what we were leading up towards, but by the end, I was hooked and I'm really excited to dive into book two! (Unrelated, but the ending was giving me some serious Last Magician vibes and I'm here for it)
This is definitely a character-driven story with a bit of a slow plot (at least for book one) but I have a feeling that was because the author had so much world-building to set up, lore to establish, and dropping breadcrumbs for the sequels.
The only thing I didn't like is that Diana is painted as a workaholic and someone who has actively strived to avoid using magic for most of her life, however by the middle of the book she rarely talks about (or does any) work. I get that she's on the run and everything, but I just find it hard to believe that she was able to drop everything so easily. Here's to hoping she just went on an abrupt sabbatical/research trip off page.
Overall, this book was a ton of fun. I wasn't sure if it was an adult fantasy book at first or not, but it totally is. This would be a great book for someone who is looking to branch out of YA but isn't ready to fully take the plunge. There were a few steamy scenes (nothing more than like a PG-13 though), but nothing too risque. Other than that though, this book didn't read as advanced as some other adult fantasy books. Lovers of paranormal fantasy will really enjoy this one! I highly recommend checking it out (especially before the adaptation releases!)
Rating: ⭐️⭐️⭐️⭐️ – 4/5 stars